Tag:
tetris
My latest free pattern is the Tetris Potholder! It's double knit, reversible, and a fun decoration for your kitchen. Use color changing yarn or rainbow yarn for interesting color combinations or solid yarns for a more classic look.
Sign up for my newsletter to download the free pattern!
Tetris and puzzle patterns are on sale this week! Get 20% off the Tetris Prism Scarf, Puzzlin' Scarf, and Tetris Afghan patterns on Ravelry or Etsy. No coupon code required. Sale ends September 11.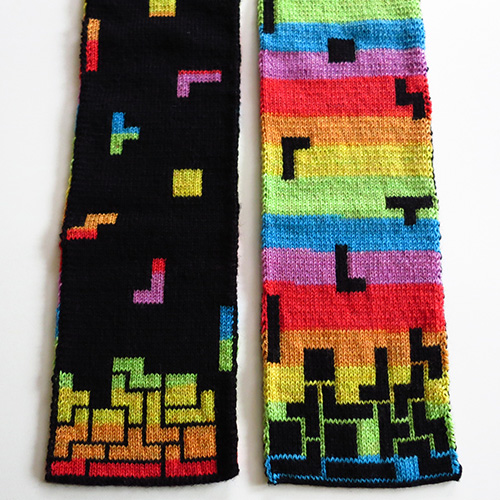 Tetris is one of my all time favorite games. Something about how the blocks fit together speaks to me. I designed the Tetris Prism Scarf to feature a Tetris game on both ends, with falling blocks along the length of the scarf. Each end has two different possible designs you can choose to knit, for either a well played game or a poorly played game! I imagine it as two people playing a Tetris battle.
Double knit, this scarf is fully reversible, featuring opposite color schemes on each side. Tetris is a colorful game, so I used a rainbow colored yarn to really make the pieces pop.
View more details about the pattern here or buy this pattern now on Ravelry or Etsy.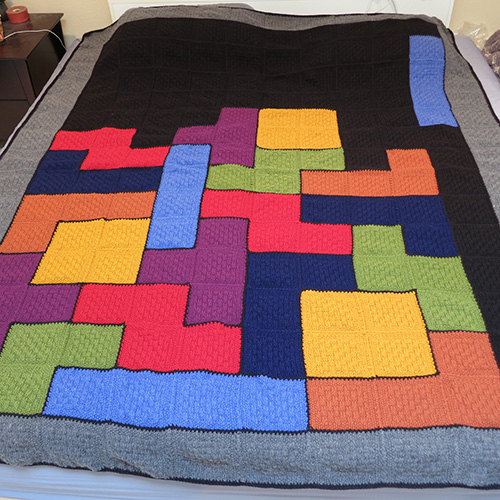 Tetris was one of my favorite games as a child. There's something about making the blocks fall into place in an interlocking fashion that is so satisfying to me. One of the first things I did after learning how to knit was to start designing a Tetris afghan. Five years later, the afghan finally became a reality!
The Tetris Afghan is knit as individual squares, which are then joined together using a crochet join into the Tetris pattern. This makes it a very portable project. I created many of the squares on the plane or in the car while traveling.
This is a great beginner blanket. The only knit stitches involved are knit and purl. The squares are joined together using crochet with full illustrated instructions for how to do so.
View more details about this pattern here or buy the pattern now on Ravelry or Etsy.