This year I knit myself a present. Since I often play the elf, giving everyone in my family plenty of hand made gifts, I made myself an elf hat. I didn't want it to look too much like a santa hat, so I chose a pattern with stripes and used green and white.
The pattern is called Striped Stocking Caps, and includes a child size, small adult size, and large adult size. I made the small adult size.
The yarns I used were:
Cascade Pluscious in White for the brim and pom pom
Cascade 220 in Christmas Green and White for the hat body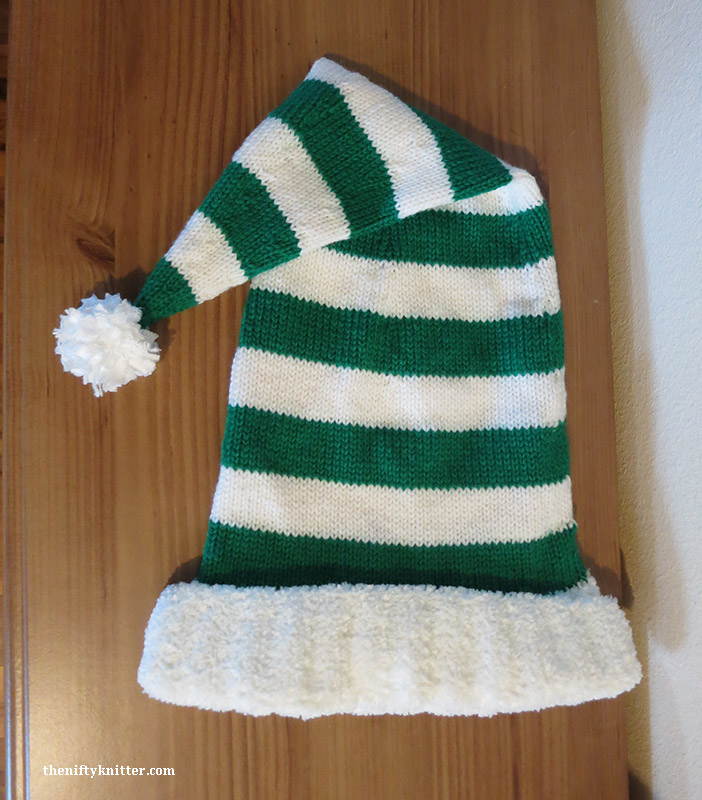 Although the pattern is perfectly fine as is, I couldn't help making a few modifications:
Use size 6 needles for the brim (the Pluscious yarn knits up thicker) and size 7 for the hat.
Knit 40 rows for the brim to make a very wide folded up brim.
First stripe in green is 11 rows. Then each stripe after that is 10 rows.
Decreases are on rows 41, 51, 56, 61, 66, 71, 76, 81, etc.
The final stripe (in green) goes down to 8 stitches. Then knit 5 more rows and thread the end through the stitches and tie off.
Check out my Ravelry project for the hat.
I'm looking forward to wearing it on Christmas morning!