Tag:
afghan
Readers rejoice! You can proudly show off your love of books with this Book Lover Blanket. The blanket is filled with rows and rows of bookshelves. In the center is an open book and the word "READ" in large letters. Snuggle under this blanket while reading your next book!
View more details about the pattern here or buy this pattern now on Ravelry (15% OFF!) or Etsy.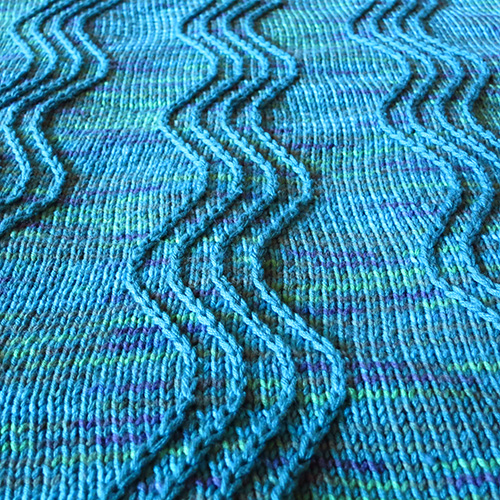 I designed this blanket while on my honeymoon in Hawaii. I loved watching the waves come in, and wanted to capture the feeling of the ocean so that I could snuggle up with a blanket and dream of Hawaii on cold winter days. My husband even drove me to a yarn shop in Hawaii so that I could buy new yarn to start knitting it right away!
The blanket is constructed using mini cables and two colors of yarn. Similar colors will blend into each other and create a variegated look, while different colors will show more pronounced striping. Optionally, the blanket can be knit with just a single color of yarn instead.
View more details about the pattern here or buy this pattern now on Ravelry or Etsy.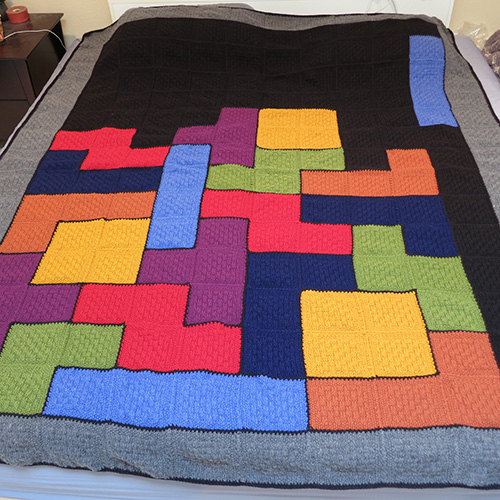 Tetris was one of my favorite games as a child. There's something about making the blocks fall into place in an interlocking fashion that is so satisfying to me. One of the first things I did after learning how to knit was to start designing a Tetris afghan. Five years later, the afghan finally became a reality!
The Tetris Afghan is knit as individual squares, which are then joined together using a crochet join into the Tetris pattern. This makes it a very portable project. I created many of the squares on the plane or in the car while traveling.
This is a great beginner blanket. The only knit stitches involved are knit and purl. The squares are joined together using crochet with full illustrated instructions for how to do so.
View more details about this pattern here or buy the pattern now on Ravelry or Etsy.