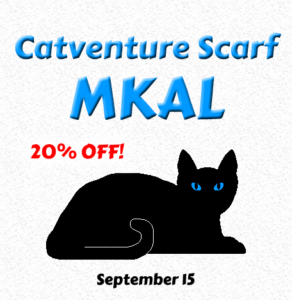 I'm excited to announce a new Mystery Knit a Long (MKAL), the Catventure Scarf!
What is an MKAL? An MKAL is when the pattern is broken up into a series of clues or parts. What the final piece looks like is a mystery until all the parts have been received.
Cats love to have their own adventures. Catventure Scarf is a depiction of what I imagine a cat might do upon leaving the house for a day. The scarf features eight different scenes of a cat exploring, making up one long adventure. The MKAL starts on September 15, will be run on Ravelry, and the pattern is 20% off until it starts. There will also be a drawing at the end for participants.
For more details, check out the pattern on Ravelry.