Pattern Cost: $4.99 | Buy on Ravelry | Buy on Etsy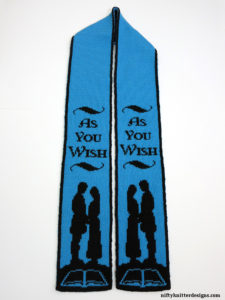 What makes a great story? "Fencing, fighting, torture, revenge, giants, monsters, chases, escapes, true love, miracles." Inspired by one of my all-time favorite movies, The Princess Bride, the Storybook Love Scarf brings to life the type of love you might find in a storybook, the kind worth fighting for.
Double knit, the scarf is fully reversible, featuring opposite color schemes on each side. Full instructions are included for the double knitting technique. There are two options for the lettering. Included are traditional double knitting charts for the lettering, which result in backwards text on one side of the scarf. However, the pattern also includes charts for fully reversible lettering, legible on both sides of the scarf.
The scarf is approximately 65" (165 cm) in length, but can easily be increased or decreased. The width of the scarf is approximately 5.25" (13.3 cm).