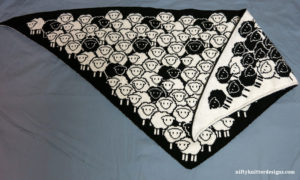 Sheep are the source of the beautiful, luxurious wool that many knitters use in their creations. They can also be darned cute! The Counting Sheep Shawl has an entire herd of sheep on each side of the shawl. Depending on the yarn you use, it can have white and black sheep, blue and yellow sheep, purple and green sheep, or whatever color combination you can imagine! Wear this sheep shawl to your next knitting meet up!
Double knit, the shawl is fully reversible, featuring opposite color schemes on each side. Instructions are included for the double knitting technique. This pattern is fairly complicated, so if you are new to double knitting, I recommend trying a double knitting pattern without increases/decreases first, such as Counting Sheep Scarf or Cattitude Scarf.
View more details about the pattern here or buy this pattern now on Ravelry or Etsy.
Check out the matching Counting Sheep Scarf and Counting Sheep Blanket! There is a 15% discount on Ravelry for buying the set!